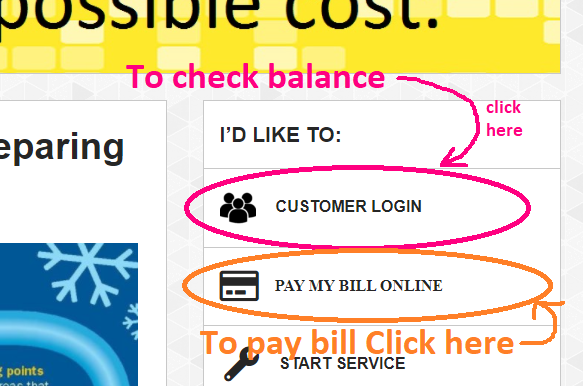 There has recently been some confusion about how to properly use our online services to conduct business with Nebraska City Utilities. Our billing (Accounting) system and the online bill pay systems are separate systems.
To check your balance you should click the "Customer Login" Link circled in red in the graphic/picture above. You will need to create a user account to access this feature.
To make a payment you should use the "Pay My Bill Online" Link circled in orange in the graphic/picture above. You just need to enter basic information to access the correct account and it will show limited information to verify you have the correct account. The balance due is what should be paid for the current billing period.
IT IS VERY IMPORTANT FOR ALL CUSTOMERS TO KNOW THAT YOU SHOULD NOT USE THE "PAY MY BILL ONLINE" LINK TO CHECK YOUR BALANCE. IT ONLY SHOWS WHAT IS DUE BY THE DUE DATE. IF YOU PAY IN FULL BEFORE THE DUE DATE IT WILL NOT CHANGE TO $0.00 UNTIL AFTER THE DUE DATE PASSES! FOR CUSTOMERS THAT DO NOT PAY IN FULL A NEW BALANCE WILL SHOW AFTER THE BILL DUE DATE HAS PASSED.
So to check your balance (especially if you are unsure if you paid your current bill ) use the "Customer Login" link and if you haven't already done it go through the account setup. This is to prevent you making double payments on your account.
If you have any questions, comments, or concerns please contact us at 402-873-3353 or via the contact us form on this website.